Quality Assurance
July 18, 2022
TestDevLab Is Now Connected to Starlink Internet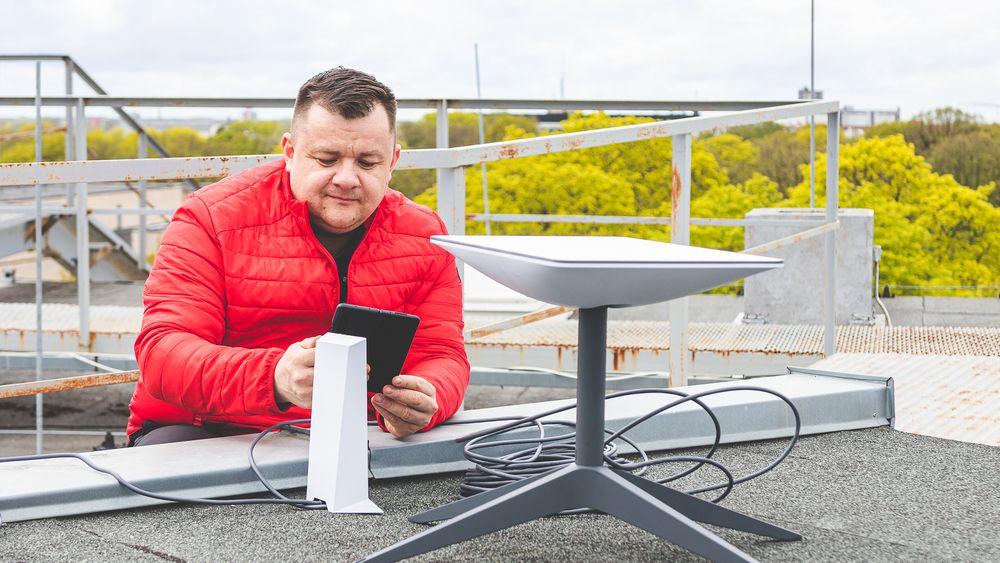 In May we got our hands on our very own Starlink Kit. The kit included everything we needed to install and start using the Starlink internet service—the user terminal (or antenna), a tripod mount, a Wi-Fi router, and a cable.
Having Starlink internet will allow us to provide even greater services to our clients by being connected to a reliable, high-speed network at all times regardless of power outages or weather disruptions. On top of that, we will be able to better analyze applications and record network traces.
But before we dive deeper into how Starlink will be used in our current and future projects, let's first look at how this internet service differs from other standard broadband and satellite internet.
What is Starlink internet?
Starlink internet is a new kind of satellite communication system that uses satellites to deliver internet access anywhere in the world. It is a great option for areas that struggle with connectivity, such as rural areas or any areas with unreliable, slow, or completely unavailable internet access.
Starlink satellites are in low-Earth orbit, which means they orbit the planet much closer to Earth. Specifically, single geostationary satellites orbit the planet at about 35,000km, while Starlink's constellation of satellites—consisting of 2,400 small satellites—is deployed about 60 times closer to Earth, at around 550km. As a result, latency is much lower, as data travels faster between the surface and the satellite.
Currently, Starlink is available in 34 countries, including Latvia.
You can see a map of the Starlink satellite constellation via the live Starlink satellite and coverage map.
Setting up Starlink on the TestDevLab rooftop
As soon as we received the Starlink Kit, which included the user terminal, we were ready to install it. Here are the steps we followed to successfully set up Starlink:
Step 1: We found a spot on our rooftop with a clear view of the sky. To correctly position the antenna and find the best location to install it, we scanned the sky using the Starlink app. Attaching the antenna to the roof was pretty simple, we only needed four screws and one minute of our time.
Step 2: The next step was to connect the cable, which was also pretty straightforward. We simply plugged in the power cable as well as the antenna cable to the Starlink router and after approximately one minute we saw the "Starlink" network appear.
Step 3: Subsequently, we installed the Starlink app, which is available for both iOS and Android devices, and connected it to the router via Wi-Fi. We then created a password for the Wi-Fi network, which was the final step of the manual setup process.
Step 4: After completing all these steps, we needed to wait for about 10 minutes for the antenna to connect to the satellite. Once the antenna was aligned, an internet connection was established and an "online" status appeared on the Starlink app.
Of course, the most anticipated part after we set up Starlink was testing the speed. We were pleasantly surprised to see that the download speed was 145 Mbps and the upload speed was 30 Mbps with a latency of 60 ms. These are excellent results.
The whole setup—from unboxing to having a high-speed internet connection—took about 25 minutes. It was very fast and easy, just as Starlink promised.
What are some key advantages of Starlink internet?
Starlink has several advantages over traditional satellite internet, the most important ones being availability, speed, and durability.
Availability
A major advantage of Starlink is that it does not depend on traditional ground infrastructures to provide internet services to more remote areas where access is limited or unavailable. As mentioned on their website, Starlink aims to connect the unconnected. No matter where they are, people can enjoy high-speed internet and gain access to education, health services, and any other resources that are accessible via the internet.
"Starlink is designed to deliver high-speed, broadband internet, even to places where access has been unreliable, too expensive, or completely unavailable."
Speed
Starlink is much faster than conventional satellite and broadband internet, with latency as low as 20 ms. One of the reasons for this is that it operates at a much lower altitude. Like we mentioned a bit earlier, Starlink satellites are 60 times closer to the Earth than single geostationary satellites which means information is transferred at a much greater speed with lower latency. Consequently, people can enjoy high-data rate activities—like video calls, online gaming, and streaming—without experiencing any issues such as delays, which is not always possible with other types of internet.
Durability
Because Starlink does not rely on ground-based infrastructure such as cell towers or fiber-optic cables, the connection is more resilient against natural disasters and weather conditions that may disrupt normal internet access.
In fact, as stated on their official website, Starlink is designed and tested to withstand various temperatures and weather conditions.
"Starlink is proven to withstand extreme cold and heat, hail, sleet, heavy rain, and gale force winds – and it can even melt snow."
We have yet to see if this is actually the case, but our expectations are certainly high.
How will we use Starlink for software testing?
In addition to the Starlink Kit, we also ordered the Starlink Ethernet adapter to connect the terminal to our network and distribute the high-speed internet connection to our specialized software testing laboratories. We have integrated Starlink internet into our quality assurance and software testing environment to not only be able to use it for our tests but to also record network traces of the connections made with Starlink. This will allow us to analyze and debug the applications we are testing, and provide even better quality assurance services to our clients.
Take a look at our Starlink internet testing environment below.
We are proud to be able to offer our clients access to the latest technology and innovation within the IT industry. Keep an eye out for even more updates about the latest happenings at TestDevLab.
Looking for a software quality assurance partner you can trust to provide you with high-quality services and bring added value to your project? TestDevLab is always on top of the latest innovations in the industry so you can be sure that your digital solution will be tested thoroughly and efficiently. Get in touch with your project details to find out how we can help.