Quality Assurance
July 22, 2022
Testing IIoT for Industry 4.0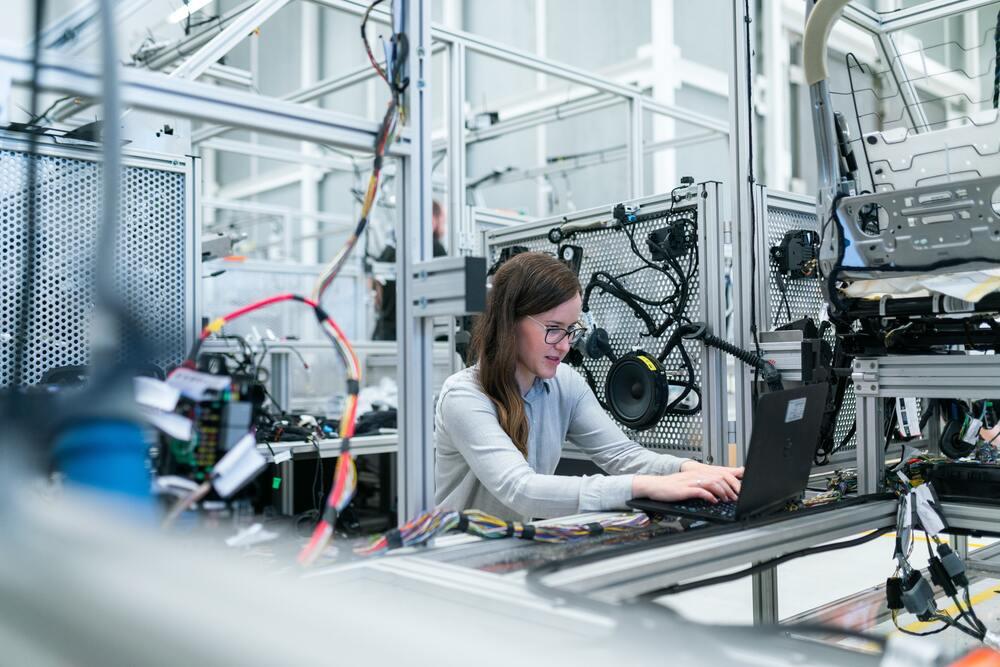 Industry 4.0, also known as the fourth industrial revolution or 4IR, refers to the cyber-physical transformation of manufacturing processes. Namely, it describes the use of interconnectivity, automation, machine learning, and real-time data in technological and manufacturing processes to enhance and accelerate them.
While in the past manufacturing processes relied heavily on human intervention, Industry 4.0 promises to increase automation, improve communication between systems, enable smart machines to analyze and diagnose issues, and—most importantly—allow systems to make autonomous decisions related to the production process. In turn, companies will see many benefits, such as more optimized processes, better use of resources, and improved productivity, to name a few.
There are various Industry 4.0 technologies that help fuel this industrial revolution by working together:
IIoT
Cyber-physical systems (CPS) including robotics
Artificial intelligence
Cybersecurity
Simulations and digital twins
Machine-to-machine (M2M) over 5G networks
Blockchain-based Service Networks (BSN)
Edge and cloud computing
Big data and analytics services
Horizontal and vertical system integration
To better manage processes and maintain seamless system integrations, testing Industry 4.0 technologies is essential. These technologies help improve manufacturing processes, and in doing so they help manufacturing companies increase overall equipment effectiveness (OEE).
While all technologies play an important role in ensuring streamlined processes, IIoT is particularly important, as it helps improve the OEE. By increasing the OEE, companies are able to produce goods at maximum speed and minimal waste. For this reason, it is crucial for companies to test the IIoT architecture and identify any bugs and inconsistencies that may be affecting the OEE. Essentially, the less bugs there are in the IIOT architecture, the higher the OEE.
In this article, we will focus on testing IIoT for Industry 4.0 and explore the different levels in the IIoT architecture.
IIoT architecture and Industry 4.0
The industrial internet of things (IIoT) is a subset of IoT that is specifically aimed at industrial applications. The aim of IIoT is to connect one machine to another in order to create intelligent machines, or smart factories. Briefly, a smart factory is a cyber-physical system that uses advanced technologies—like AI, machine learning, and big data—to continuously collect and share data, and create a fully automated production environment.
On a global scale, supply vendors are those that enable companies to transition to Industry 4.0 and improve their manufacturing processes. They provide all the means for companies to set up process automation devices and equipment so that they can be integrated with edge computing and AI technologies throughout the manufacturing process and also be able to exchange data directly to the cloud over LTE or 5G networks.
One of the main advantages of Industry 4.0 is that it facilitates cloud-based services and communication standards to not only control and monitor the manufacturing process by using mobile and web-based applications, but also to produce and process large volumes of data from field-level sensors. However, at the end of the day, the key to improving and automating manufacturing processes lies in the successful implementation of IIoT architecture—and its quality.
Having a robust IIoT architecture is vital to ensure a streamlined connection between elements at every level of the manufacturing process. The classic automation pyramid consists of five levels. For the IIoT architecture we focus on three main areas:
Connected devices (Level 1)
Supervisory and control systems (Levels 2 and 3)
Management and planning processes (Levels 4 and 5)
Every level in the IIoT architecture is dependent on the other to be able to achieve a fully autonomous manufacturing process. This is why it is necessary to test the IIoT elements at every stage to detect any issues or flaws in the process.
The IIoT architecture can extend across different scenarios and levels, while making use of simulations and business intelligence. It also has the ability to use digital twins—a virtual representation of an object or system—to anticipate potential issues, bugs, and system flaws in manufacturing processes.
Let's take a closer look at the different IIoT levels and find out how we test each level.
Connected devices
At the first level of the IIoT architecture we have the connected devices or field devices. These devices include any industrial equipment that is used to collect, communicate, and analyze data, like wireless sensors, cameras, microphones and smart meters.
The way these devices work is that they collect information from the system and convert it into actionable data that can be used to better plan and manage manufacturing processes.
Supervisory and control systems
At the second and third level of the IIoT architecture we have the supervisory and control systems. These systems allow remote supervision, control, and optimization of manufacturing processes to ensure they are running smoothly and without any issues. The supervisory and control systems are made up of various components, including sensors, controllers, and computers.
Management and planning processes
At the final level of the architecture we have management and planning processes. This is the level where the huge chunks of information that have been collected by the connected devices—process events, metric alerts and inventory data—are analyzed and turned into actionable insights that can be used to plan and optimize production processes. However, to use this analytical data and produce reliable predictions about processes, great computing power is paramount in order to enable process simulation and create a digital twin.
Testing the different levels of IIoT in Industry 4.0
Testing connected devices
TestDevLab offers the following IIoT device and hardware testing services for the first level of the IIoT architecture:
IIoT device and hardware network and battery
Performance and energy efficiency
Device data acquisition E2E testing
Field level communication (NB-IoT, LTE, 5G connectivity)
Communication protocols and standards (MQTT, Modbus, CoAP)
When testing connected devices at this level, the main priority is to test network speed and latency. Namely, network testing—in combination with functional testing—is essential for checking devices against Gigabit Ethernet and communication standards like OPC-UA. It is also pivotal in network-centric architecture where RTU or PLC and robotics equipment use broadband wireless gateways and communication standards like CoAP and MQTT to collect remote data.
At TestDevLab, our software testing engineers have ample experience in testing connected IIoT devices in different test environments. Some of our past projects have seen us test IoT hardware devices and sensors that required more extensive validation of energy and battery consumption. Additionally, we have worked closely with manufacturers who needed to validate the industrial gateways and sensor equipment from various vendors. To help them validate their IIoT devices, our engineers perform validation testing. To do this, we first create a test plan and then execute it, collecting useful data from the IIoT devices.
Furthermore, our tech experts can help with creation of support services to test the data acquisition and integrations with the cloud services. Any feedback can be addressed to the vendor and we can help to facilitate the implementation of the equipment.
There are a variety of cloud platforms that allow you to connect IoT devices either directly or through a service broker (edge). Some examples of cloud platforms include Google Cloud, AWS, and Cumulocity IoT, which are designed for IIoT, consumer, and commercial solutions. The IoT platform helps to validate crucial functions like device management, data collection, device control, and also the data representation and application layer.
Testing supervisory and control systems
We offer the following testing services for supervisory and control systems:
Integration tests for the IIoT services and device drivers
Cyber security (MQTT Edge Security)
Database connections
Manual QE of SCADA Operator / HMI panels or dashboards
Automation for HMI Web and Mobile solutions
Even today the manufacturing industry relies on human factors for process monitoring and control. Industry 4.0 SCADA systems are augmented by AI and allow workers to reach operators and other plant personnel by using everyday technology to deliver rich and location-based information about the process. These systems also allow them to control production processes in real time from anywhere with the appropriate level of access.
Our QA engineers can help with manual QE services of the operations panels as well as the automation for industrial applications on Web or Mobile platforms. In some plants, the industrial communication architecture only reaches the outside world at the supervision level where cyber security of the SCADA level edges is most vulnerable. TestDevLab can provide security audits to report problems with SCADA implementation. We can help test SCADA architectures starting from simple ones and scaling out to IIoT and cloud-based architectures on both public and private (enterprise) environments.
Testing management and planning processes
TestDevLab offers the following services to test the efficiency of management and planning processes:
Manual testing of the services and applications
Service API test automation
Performance and load testing of the services
Data replication/ Volume testing
Product analytics and monitoring system tests
To make sure you're on the right track of planning and managing your production processes, TestDevLab offers a range of software testing services, like API load and performance testing. We also have our very own API test automation tool that makes testing APIs much easier, as well web service load testing with simulated users for ERP, MES, SAP system providers and integrators. For the interactions between the service application roles, we perform resilience—or chaos—testing, which allows us to target and weaken service interactions to validate the robustness and failover of specific processes.
Get ahead in Industry 4.0 – How can TestDevLab help?
The key objective of Industry 4.0 is to drive manufacturing forward—to be faster, more resource-efficient, and more intelligent. At TestDevLab, our QA engineers are well-versed in Industry 4.0 and all the technologies it encompasses, particularly IIoT. By working closely with our team, you can be sure that your manufacturing processes are at the forefront of the latest industrial revolution. Whether you need to perform performance testing, load testing, API testing, or validate existing processes—we have the skills, knowledge, and tools to help. Contact us now and let's discuss your project details.