Quality Assurance
December 4, 2018
Career Development in Quality Assurance Field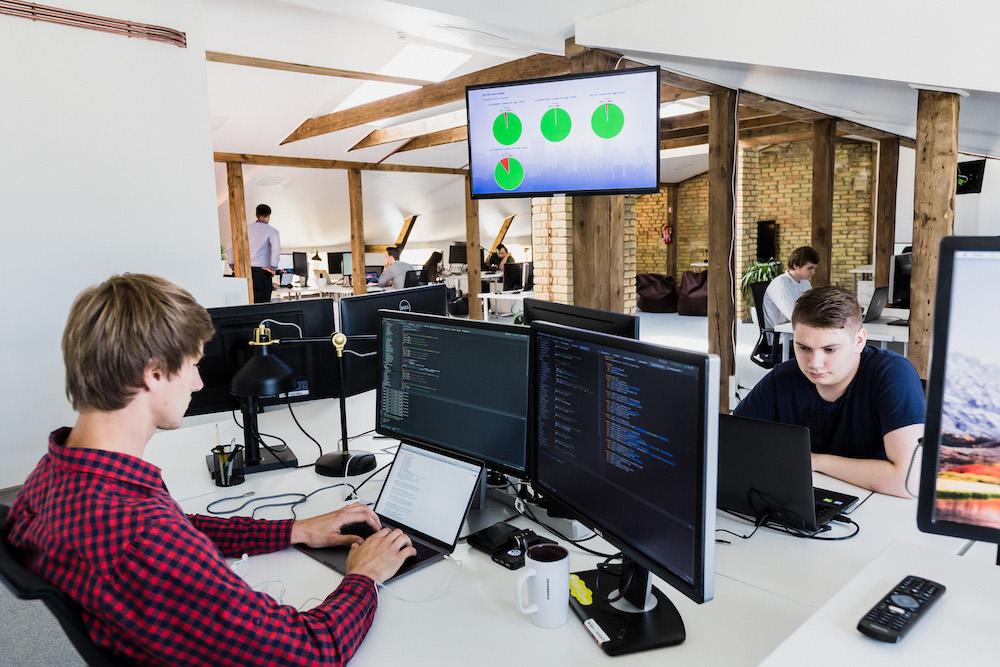 No doubt, nowadays the IT field occupies one of the leading spots in the dynamics of development. Every year there are new technologies and tools in which both beginners and experienced IT professionals can develop their skills. But it is obvious that it is impossible to master all technologies and tools.
What can we observe today? Sometimes, a person who decides to develop a career in the Quality Assurance (QA) field will sooner or later be confronted with these questions: how many career paths and levels are there and which skills and knowledge are required to achieve success as quickly as possible? Let's take a look at one of the most popular scenarios of building a career in the QA field.
Where to begin?
Sometimes, to start your career in the field you need to have at least minimum experience – an internship is a great way to start. It will help you to get your first real work experience and become more confident working in IT field. During internship you will get a taste of your chosen field. The duration varies, but usually it is about 3 months. If you want to take your first steps in the QA field, TestDevLab has internship opportunities. But before you apply let's take a look at the skills and knowledge you will need to start.
Generally, there are no specific requirements to start an internship and experience is not required. You should have basic knowledge of IT theory to be able to do simple IT and software testing tasks. Therefore, it is highly recommended that you pay attention to IT-based trainings, such as online training at CompTIA. There you can learn the fundamentals of IT, which will help you to get your first job offer and also will help in your career building in the future. Also, you can pay attention to other study platforms for IT training and courses like Coursera/Udemy/edX etc. There is a huge selection of educational materials and lessons. Just open the internet and do some research to figure out what is useful and necessary for you. The main point is to get at least minimum quality knowledge in IT fundamentals which is required in every IT company.
Additionally, find good books on software testing to build your understanding in exactly which  direction of software testing you'd want to go. My colleague Kristaps has published a blog post about great books on software testing.
Once you are hired, you will be involved in real projects where you will see the real project cycle. Usually, intern tasks are not very complicated, for example, helping in different kind of projects or doing trivial tasks where your basic understanding of IT is enough.
Don't forget that the internship is a great way to show yourself from the best side as a future QA specialist! Be curious, hardworking and active! It will help you reach the next level in your career development. By the way, we also have an article about the most critical soft skills which anyone who wants start the career in IT field should have. Check it out!.
Junior QA Engineer – fundamental career level for future specialist
When you have successfully finished the internship, one of the most interesting parts of your career has begun – you have become a Junior QA! This step is fundamental, because you will be able to use testing theory in real life and you have a chance to get more practical experience in software testing. As a result, you will get your own view and understanding on how the QA field functions and develops.
As a Junior QA engineer you will make bug reports, write or update test cases. In general, it will be tasks which don't require deep knowledge in QA field, but at the same time require good theoretical knowledge about software testing. Also, you will use bug tracking systems and test management tools. As you can see, this is the right time to perfect your manual testing skills. If you don't have any experience in programming or automated testing you can also start developing your skills in this area, too. It will give you the ability to answer a very important question – which QA direction I want to take and what are my best skills? By answering this question you will have two paths before you – technical direction and management direction. For the first one, you need to pay attention to your technical knowledge like programming languages, test automation skills etc. For the second one – organizational and communication skills will play the main role.
On this career level it is good to get a recognized certification in software testing. For instance, there are many types of certification for different QA specializations such as QA management, test automation and much more. ISTQB certification is very popular, as it offers multiple certification levels –  foundation, advanced and expert. As a junior QA it will be enough to have a foundation level certificate. It will give you a good understanding of QA processes as well as common terminology. Take into account that you can take a training course offered by an official provider or you can prepare for the exam using the free syllabus which is available on the official ISTQB webpage. At TestDevLab a significant majority of software quality engineers have different levels of ISTQB certification.
Don't forget that there are other certifications which also are popular in some companies and countries For example, IIST and ISCB provides certification in different software quality and software testing areas. Follow the links to get more information and clarify which training or exam you need. The choice is yours!
Practical experience in QA field will help you in future projects. At the same time having a recognized certification will fix your position as Junior QA Engineer and help you to move your career to the next level.
QA engineer – the course is correct
Well… The next step in your career will be a QA engineer position. By now you should know in which direction you want to go as a QA specialist. This career level has very specific requirements and is closely connected to the direction you want to develop your career in. Generally, this level is useful to build strong competence and practical knowledge.
Sometimes your choice can depend on the company you work at or on the project you working on; different companies and projects don't use the same technologies, strategies and testing approaches. It may happen that as a QA engineer you will be expected to prepare technical documentation, have at least superficial knowledge of automated testing, coding and databases. After gathering test results you should be able to present the testing results for your company or customer.
If you have  chosen the technical direction, main focus will be on automation skills. In some companies you will work on different types of projects where you will see a varied selection of division where automation testing knowledge could be required. For example, it could be mobile testing, web testing, desktop application testing, security testing, performance testing and even game testing!
The advanced level certification will be useful to move your career forward. As mentioned before, ISTQB, IIST and ISCB have many advanced level certification programs. For example, ISTQB has Test Manager, Test Analyst, Technical Test Analyst and other programs. After passing this certification you will get more confidence and understanding in which direction you want to develop.
It is not possible to get one denominator according to skills what you need to have on each career level. But to become a Senior QA engineer the leadership, technical experience, analytical and presentation skills will play the main role.
Senior QA engineer
The Senior QA engineer position means that you need be able to take responsibility not only for your work, but for project in whole. This personal quality is required despite of which career path you have taken. From Senior QA engineer actions depends how successful the project will be in the future. Let's see some tasks you may required to do.
Senior QA engineer decides which testing approaches will be used on the project and consequently it depends on them whether the quality assurance processes will be production or not. So, sometimes only the Senior QA engineer needs to communicate with the customer. You can be required to review the test process of a project. You will need to understand what fits best for the current project and then compare existing tools/techniques that later will be offered to and reviewed by the QA team. Also, you will influence what kind of relationship will be built between customer and QA team.
Good technical knowledge for Senior QA position will be required. Your technical knowledge level will influence project development and, consequently, its success. For example, your programming skills need to allow you to not only write an automated test, but also review tests written by other QA team members and suggest better solutions, if necessary. Understanding CI/CD and being able to set it up can be required as well. Technical skills are very useful for QA management as well. It's usually necessary when people who organize work have a competence in technical questions! Working as a senior QA engineer you will need to analyze the information, large amounts of data and make a decision according to received results.
Is there any career develop opportunities after you became as Senior QA?
Now you have a lot of experience and practical knowledge and you understand that you need to move your career forward. Great new opportunities arise for you. The main advantage is that if you already know what opportunities are available and what are the requirements to get each career level in your company you are aware which skills and knowledge you need to develop your career further. For example, you can continue as QA Lead, QA Director, Product Owner or choose other position in QA/IT field. Common trait that unites these positions is that they require a high level of responsibility. All is in your hands, improve your skills all the time and move ahead!
As was told at the beginning, TestDevLab company provides internship opportunities. Don't be shy apply your candidacy for a QA intern position and start building your career today!