Company
March 11, 2022
How We Hire Engineers Internationally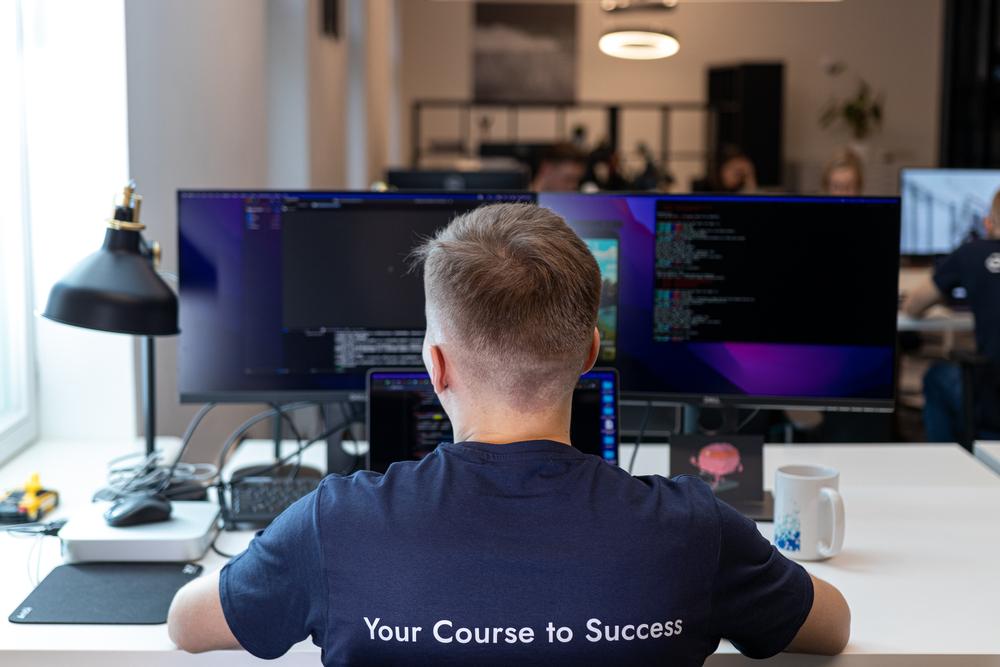 Back in 2011, TestDevLab was founded in Ventspils—a small coastal city in Latvia. Fast forward to today and we've expanded to multiple locations. We now have six offices across the country and one international office recently opened in North Macedonia, and 500 employees. Our employees now come from 16 different countries all over the world. But what I find most fascinating from all these numbers is that we went from 4 to 74 employees located outside of Latvia in the timespan of only one year. As you can imagine, 2021 marked a completely new chapter at TestDevLab and made us adapt a lot of internal practices and processes to accommodate our international engineering talent. This raises an important question—
Why would we even invest considerable time and effort into hiring engineers internationally?
It might seem (and for some companies or industries is also true!) that hiring locally is easier, cheaper, or at least faster. Local hiring was our approach for years and it proved to be sustainable until we experienced rapid growth during the pandemic when the demand for technology that we test increased rapidly. Some of our clients asked to add 20-30 engineers to their project teams at a time. The IT industry in Latvia offers a lot of advantages, starting from highly skilled engineers to a great infrastructure, but it's also a highly competitive labor market for IT professionals. Of course, human resources are limited in small countries like Latvia. When we passed the 250 employee threshold, it became increasingly challenging to hire skilled engineers locally, hence our decision to expand abroad.
On top of that, we realized that the benefits of hiring abroad far outweighed the challenges, namely:
Access to a larger talent pool
Ability to attract a highly skilled workforce
Flexibility for employees to work from their chosen location
Multilingual and multicultural environment
As a result, we have increased our global competitiveness and stayed on top of our client requests for quality assurance experts.
You might be interested in: Why Choose TestDevLab as Your QA Service Provider
Is international recruitment easier said than done?
I'm not going to pretend that we haven't encountered a multitude of challenges along the way, including differences in taxation systems and legal employment matters, ICT infrastructure and device logistics, background checks, employer branding, and managing remote recruitment processes. If I said international recruitment is easy, I'd be lying.
So how do we do it… successfully?
Whenever we consider hiring from a new job market, we invest resources into exploring the tech industry there. We check out other companies that are present in the country, main cities where engineers are located, universities that offer study programs in information technology, local job posting sites, and average salary levels. At the same time, we start reaching out to engineers to get direct insight from them, understanding their work culture and expectations from a potential employer. At this point, if everything is going smoothly and the job market looks suitable, we look into legal matters of concluding an independent contractor agreement, taxes in the respective country, and the overall costs of hiring experienced engineers. This is also when most of the googling and reading through various resources happens.
Our findings are presented and discussed in team meetings, as multiple people are usually involved in the first stages of the recruitment process. If needed, we involve external partners and consultants, who help us understand matters concerning local labor laws. Essentially, we look at every target country as a location where we could potentially expand over time. If the number of hires grows there, we want to be able to offer all social and health benefits to our employees, logistical support, and office space. That is exactly what happened in North Macedonia where we set up a legal entity in 2021 and opened our first international office in Skopje one year later.
It is important for us to communicate this idea to candidates during the interview process, which can take a lot of time but is important nonetheless. In our experience, potential employees are oftentimes skeptical about becoming independent contractors and understandably so, as contractors are generally hired for a set period of time or a certain project. At TestDevLab, independent contractors are a valuable part of the team, they are equally involved in internal processes, and stay in the company even when their project finishes—we simply reassign them to a new one.
Making the first hire in a new country is crucial
After sorting out the practical aspects and getting at least one engineer from a new target market on board, we invite them to help us reach a broader audience, acting as ambassadors in their country of residence. To put it simply, it is very difficult to convince an engineer from, let's say, Romania to interview with us if they have never heard anything about TestDevLab or seen our online presence. In fact, according to the 2021 Future of Recruiting Study by CareerArc, 82% of employees consider employer brand and reputation before applying for a job. That's why together with PR and Marketing teams we organize targeted webinars about job opportunities at TestDevLab, participate in local career fairs, and seek other opportunities to promote our employer brand through social media campaigns and job posting sites. This inter-team collaboration has become crucial in our success internationally.
Additionally, existing employees also act as local support in their countries of residence as they speak the language and can share their insights about the job market. Their presence is important to grow further in one country as they can help newcomers integrate into the company, sort out the freelance registration process, and make the seemingly difficult transition less scary.
Technology helps
Throughout the remote recruitment process, we have discovered the benefits of technology in HR. Firstly, our interviews were adapted to the online environment, ensuring that we don't need to see someone in person to test their skills and knowledge. We use platforms such as HackerRank for technical assessment, as well as to conduct live coding interviews with the help of our engineers. To gather feedback about each candidate and automate some of the time-consuming recruitment processes, we use TalentLyft applicant tracking system. If a candidate decides to accept our offer, we want to verify them so we have implemented an online identification tool GetID, and use national agencies to conduct an official background check for each newcomer. Lastly, electronic signatures have become an essential tool to speed up the agreement signing process, although sometimes they are not compatible within each other and documents in a paper form still have to be sent around the world. I guess it's true what they say, you win some, you lose some.
Is it worth it?
Absolutely! The pandemic changed our perspective on remote work, and we are committed to keep hiring internationally. Many challenges still remain, especially when it comes to managing our client expectations and making sure that we adhere to the highest data security and confidentiality standards, yet there are constant improvements to our internal procedures to tackle these issues. For example, last year we got ISO certification not only for our physical locations in Latvia but also for our legal entities in North Macedonia and Estonia.
In the future, we want to ensure that our employer brand stays competitive and is recognized globally with the help of bright engineers and the support of our internal teams.
Well, now that you know how we go about hiring engineers internationally, why not check out—and apply for—our open positions. See our international recruitment process in action.