Company
January 27, 2022
New TestDevLab Office in Skopje—Now Open!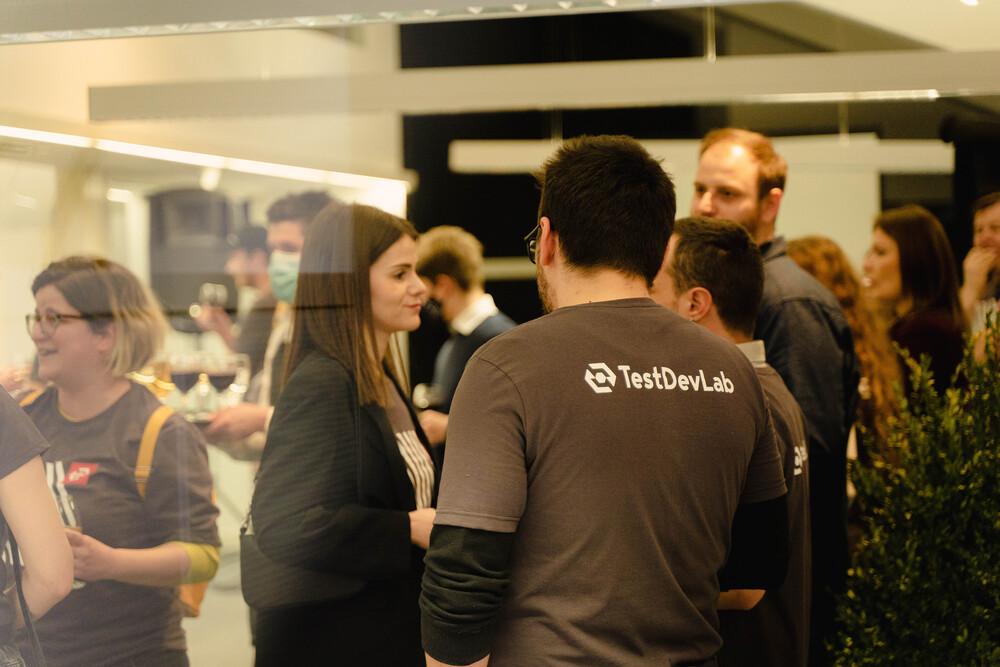 On January 26, we officially opened the doors to our seventh—and first international—office in Skopje, North Macedonia. We are excited to expand our physical presence and be able to support our clients from a new location, rich with diverse talent.
One of our co-founders, Andrejs Frišfelds, commented on the expansion of the company's operations in North Macedonia:
"Several years ago, we started looking for employees abroad because we started growing at a very fast pace. At the beginning of last year, we managed to attract a number of excellent specialists in North Macedonia, and the number of employees began to grow significantly as soon as we established a branch in the country and expanded our marketing campaigns. In North Macedonia, we expect to attract even more staff and appreciate their academic and practical knowledge."
With this latest addition, we now have seven offices located in Riga, Ventspils, Liepāja, Daugavpils, Valmiera, Jelgava, and Skopje. In addition to the employees who work at one of our seven offices, we also have talented employees working remotely from different locations, including Albania, Azerbaijan, Bulgaria, Brazil, Estonia, Georgia, Kazakhstan, Poland, Spain, Romania, Serbia, and Turkey. We are always on the lookout for brilliant engineers to join us, wherever they are, so be on the lookout for even more locations.
The start of something great
We first started our hiring activities in North Macedonia early last year and shortly after we set up a branch to offer employees the same social guarantees and benefits available to other employees in other countries.
Though we opened our Skopje office just recently, we already have many employees from North Macedonia—55 to be exact—some of which have been with us for over a year now. Our first ever employee from North Macedonia, Ana Mihajloska, shares her experience about working at TestDevLab:
"I have been with TestDevLab for little over a year now, and oh, boy, what a year it has been! I have grown so much professionally and gained so many new skills and experience. Being in an independent testing team challenged me to learn many things, and acquire them in a record time, while at the same time mentoring junior team members, getting acquainted with the company culture, as well as the client company's culture, and enhancing my technical skills. With the incredible support I received from my project lead, team members, the HR team, and both Andrejs and Ervins, I succeeded in obtaining two additional ISTQB certifications, as well as augmenting my software engineering skills. What is more, I made good friends, both locally and internationally. I would like to give a special shoutout to our TestDevLab League of Legends community, where I met incredible people with whom I don't work directly. Hey, guys!" —Ana Mihajloska, Test Automation Engineer
Let's go on a tour of the office
We've put in a lot of hard work and put our decorating skills to the test to ensure our Skopje office is spacious, comfortable, and feels like a home away from home. It wasn't easy but we did it. We're excited to share the final results with you. Without further ado, let's take a tour of the office.
Our workspace
This is where all the work and testing is done. In case you haven't noticed yet—we like open-plan offices.
Our common spaces a.k.a. the chill-out zones
This is the area where we come to have quick chats, spontaneous meetings, enjoy a cup of coffee, or just hang out.
Our meeting room
Who wouldn't want to hold a meeting in this space right here. The next time you're having a call with us, we'll probably be sitting in this cool space.
Our coffee station a.k.a. the kitchen
You can find most of us here in the mornings getting our fuel for the day. Can you smell the coffee brewing?
Our balcony
Every time we need to breathe in some fresh air we can just step out onto our spacious balcony and enjoy the view. Hey, see those snow-capped mountains in the back?
P.S. Mind you, we're still working on the finishing touches. So watch this space.
A space to grow and thrive
Sure, our office looks amazing, but where would we be without a team that shares our vision and passion? It gives us great pleasure to be able to support our employees' personal and professional growth and provide them with the means to achieve their goals and excel in their careers. Three of our super-talented QA engineers from North Macedonia, Anita, Dragan, and Blagoja, share their experiences and perspective on working at TestDevLab:
TestDevLab is a place where you can share your thoughts and ideas and know your voice is heard. There is no micromanagement. Instead, there is complete trust in all that you do. A place, where you can push your limits, further your knowledge, and do things that seemed so distant to you once. Kudos to all the colleagues that share their knowledge and support selflessly. As a bright mind once said, it is the people that make an organization and I can say with certainty that this is an awesome organization. —Anita Miovska, Quality Assurance Engineer
Last year I was in a place where I was not happy with myself. I needed to make a change. Following up on a recommendation, I applied for a job at TestDevLab and got it. Six months in and I can confidently say I've made the right decision. I'm constantly learning more about my limits and challenging myself to be even better. I have achieved goals and gained new skills and experiences I never thought possible. The opportunities to learn and grow are endless and there's always someone cheering you on to the finish line. I guess you never really know your limits until you push yourself to them. I know this. I am now at a place where I am satisfied and happy with myself. That recommendation really changed my life. —Dragan Sekuloski, Quality Assurance Engineer
I joined TestDevLab one year ago. The interview process was smooth, despite the fact that they had to wait for my three month notice period. Once I joined the company, I understood what it means to work for a world-class company that provides expertise and services to top-class companies, including Microsoft, Twilio, Truecaller, Orange, Libon, and many other Fortune 500 companies. In this one year, I have developed new skills, gained new experiences, and grown a lot—both personally and professionally. We have a great company structure and support system that always pushes us to the limits to learn new things and technologies, and in return we are rewarded for that… I mean really rewarded! That's why I encourage everyone to visit our career page, apply for an open position, and live the world-class dream. —Blagoja Mojsoski, Quality Assurance Engineer
Here's to new beginnings!
With a growing team of skilled engineers, creative thinkers, and lifelong learners, we have no doubt that our Skopje office is set for success. We can't wait to see all that we achieve together. Here's to new beginnings!
Oh, and as you can see, our office is quite spacious, which means we still have room to welcome new colleagues to our team. Check out our careers page to see all open positions.