Quality Assurance
May 13, 2022
Working Remotely: Tips from the TestDevLab Team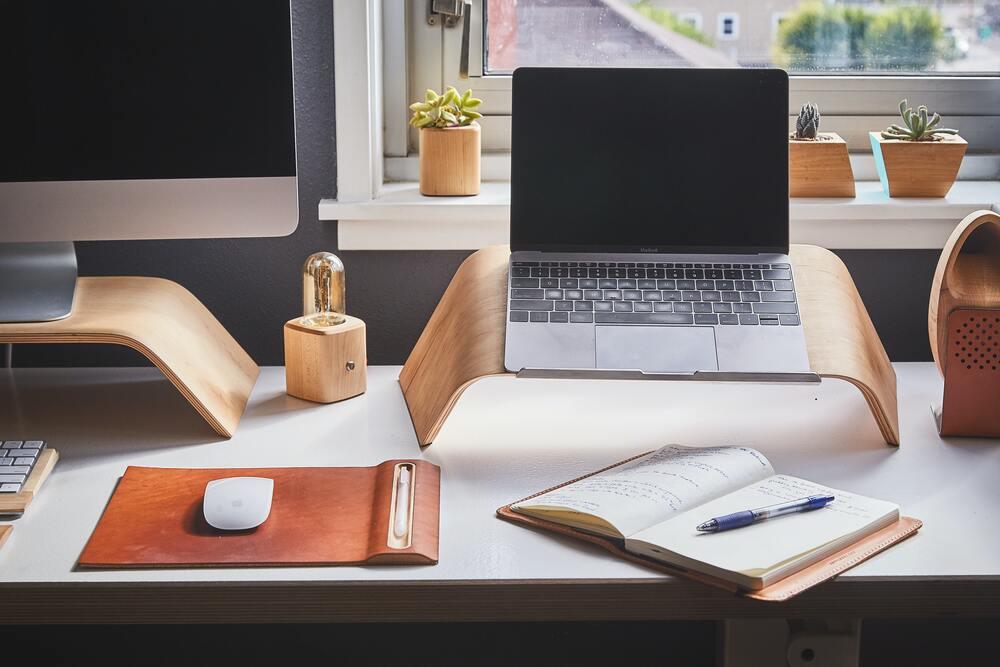 With COVID-19 behind us, we can safely say that things have slowly gotten back to normal in the workplace. However, if there's anything that living through a global pandemic has taught us is that normal is what we make of it. In fact, when it comes to work, does normal even exist? For some, normal means going into the office and having face-to-face meetings with their colleagues. For others, normal means being able to work from a home office and walk their dog during their lunch break.
Essentially, a normal workday is what we make of it, as long as we do our job effectively and feel a sense of accomplishment while doing it—be it remote or from the office. We asked some of our colleagues to share their tips about working remotely and also looked at some advantages of working in the office.
Home office setup
Make sure you have a dedicated workspace. This is because it's easy to get distracted at home with something that may throw you off schedule, like watching the kids or fighting the sudden urge to do some spring cleaning. In fact, according to a survey conducted by Buffer, 12% of respondents said distractions were their greatest challenge with working remotely. To avoid getting distracted, set up a home office in a quiet and private space where you can focus on work without any distractions. Oh, and make sure your workspace is equipped with everything you need, including snacks.
"Have a dedicated work area that is separated from the living space. That ensures that you have one place to work in and another one to relax in, and you can subconsciously separate work from home. P.S. A work desk in the bedroom is a big no no."
—Ieva Rebeka Koroļkova
"Have a proper home office set up properly: a height-adjustable desk, an office chair, a bulletin board, and a window that lets in plenty of natural light. Also, make sure you can close doors to have some distance from family members if needed."
—Everita Maire
"Be sure to set some boundaries so that you can get quality work done without any distractions."
—Edgars Avotiņš
Team communication & productivity
Good communication is key to building a strong team and making sure your project is running smoothly. This is true for both those working remotely or in the office. Effective team communication can help solve problems faster, strengthen professional relationships, improve feedback, and foster trust. Therefore, be sure to communicate with members of your team regularly using the communication channel that works best for you and your team—video call, voice call, or instant messaging.
"Whatever issues you have, they are much easier to tackle if you know you are not alone. Have an open discussion with your teammates about your personal WFH struggles, especially if you feel guilty that you are not performing as well as you could or as well as others seem to be performing. You might be amazed at how well we all hide these struggles, especially in the work setting."
—Edgars Avotiņš
"Staying in a voice channel on Discord helps create an atmosphere of working together in the space and is particularly helpful for newcomers who can ask questions right away."
—Rita Jevdokimova
"Daily stand up meetings, sprint planning, and sprint refinement meetings help maintain good communication across teams."
—Everita Maire
"End your stand-up meeting with a joke, a random fact, or some interesting news. This will put everyone in a good mood as they go back to work. And it gives your team something to look forward to in every meeting besides the usual work-related topics."
—Milan Zafirovski
Daily routine
Try to keep a routine for yourself, whether that means starting work at the same time every day, dressing up as you would for a day at the office, or setting aside time each day for exercise or meditation. According to a report by Owl Labs, 55% of people said they work more hours remotely than at the physical office. Establishing a daily routine will help you keep things organized and ensure a productive workday—without putting in the extra hours.
"Have a good sleep schedule and eat healthy and regularly."
—Edgars Avotiņš
"Remember to take short breaks to give your eyes some rest."
—Ieva Rebeka Koroļkova
"Always take at least a 30-minute walk before you start your working day."
—Jevgenijs Murans
Security
Working with some of the world's leading tech companies, security and our clients' privacy is one of our top priorities. We make sure all TestDevLab employees work in an environment where information security and confidentiality is protected. For those working remotely, we make sure they use headphones and work somewhere where other people cannot see their screens or access their devices.
Office tips
Working in the office has many advantages that remote work cannot always provide, such as face-to-face communication and fast, real-time feedback. If you work in the office, we have some tips for you, too.
Work with mentors. If you're a student only just kickstarting your career in IT or are a new employee, the best way to learn and understand what is expected of you in your new role is by working closely with a mentor. Speak with your mentor or project lead, bring up any issues you have, and take notes. Being physically present in the office with more experienced colleagues will help you transition into your new role faster and more efficiently.
Share knowledge. One of the greatest advantages of working in the office is knowledge sharing and collaboration. A lot of information can and is shared in the office, often in informal conversations between people during the workday. On the other hand, when working remotely, most interactions are scheduled or have to be sent via text. This extra effort may dissuade someone from asking a particular question or sharing an interesting piece of information they may have picked up. So if you learn something new, see a colleague struggling, or come up with a brilliant solution to a problem, be sure to share this information with your team.
Ask questions. If you're struggling with a particular task or simply want to get a second opinion on something—just ask. This will save you a lot of time going back and forth trying to find a solution on your own. Two heads are better than one, so don't hesitate to ask your team for help when needed.
Get comfortable. Make your workspace at the office feel like home. Add some personal touches here and there, like a photo or a plant, or bring in some personalized items like a coffee mug with your favorite Monday motivation quote. Explore the office and see the different workspaces available, such as conference rooms, outdoor areas, and chill-out zones. Feeling comfortable at work will make your workday more enjoyable and boost your productivity.
Embrace the work culture. Take the time to embrace the work culture in the office. Does it promote innovation and creativity, or perhaps it instills a desire for learning and professional development? Working from the office allows you to fully embrace the company culture, whereas working remotely might not give you full access to everything that a company may offer. This is because when you are able to communicate and interact with colleagues face to face—such as in an office setting—it becomes much easier to build genuine relationships, embrace a social identity, and voice your opinion more freely. Additionally, in the office you can meet and get to know not only the people in your team, but also colleagues working on other projects. Connecting with people outside of your team is not as easy when working remotely.
Modern problems call for modern solutions
Whether you work remotely or from the office—or prefer a hybrid model—the best tip we have is to find what works for you and embrace it.
At TestDevLab, we understand that sometimes it can be difficult to choose your normal, which is why we offer our employees flexible working hours when there's a need and the opportunity to work remotely if circumstances allow it. Also, our employees can travel and work from one of our different offices—for a day, a week, or maybe two, why not?
Want to experience the TestDevLab work style? Check out our open positions—you just might find what you're looking for. And keep in mind that we are hiring engineers internationally. With employees from 17 countries, we're always on the lookout for experienced and motivated professionals to join our growing team.