Quality Assurance
November 10, 2022
How We Test Applications in Motion: Introducing Our Mobile Laboratory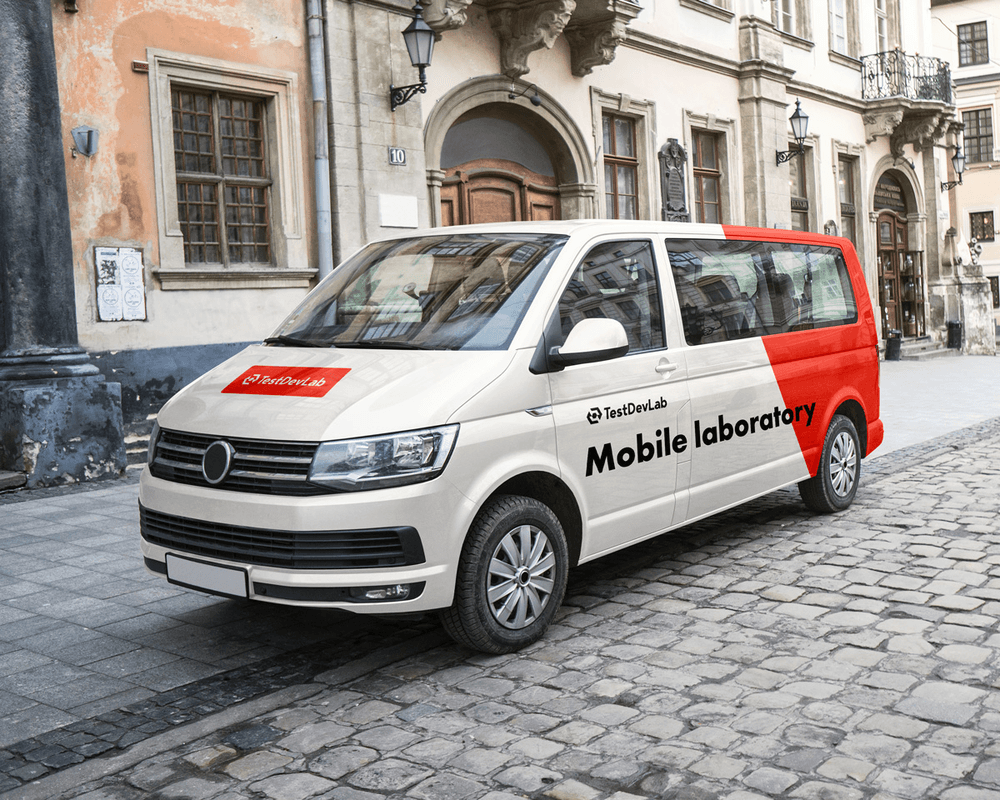 Technology doesn't stand still, so why should we? As a dedicated QA service provider that is always on top of software testing trends, we want to make sure our clients have access to the latest approaches and innovations in software testing. Recently, we received many requests from our clients wanting to see how their application behaves in real conditions, while on the move. Specifically, how their application behaves and performs in different real-world scenarios, for example, in a car on a highway, in a busy city center, or in a remote area where only a 3G network is available.
Although we can simulate real-world network conditions for testing, we understand that for certain projects and scenarios like the ones mentioned above, nothing beats getting out into the real world to run tests. This inspired us to create a unique solution that would enable us to take our custom testing solutions and tools outside, and test clients' applications on the move. And so we developed our mobile laboratory.
What exactly is our mobile laboratory?
Our mobile laboratory is a specially equipped minibus that houses all of our test benches, creating a tester's workplace that can work on the go—wherever a project takes us. We analyze how the network and application behaves on the move and record the results.
Now, you may be wondering how we process such large volumes of data. Do we really put all of our servers and data analysis systems in a minibus?
Of course, the answer is no. For analysis, all of our data is uploaded to our data center. To download such a large volume of data, especially in places where the mobile network is only 3G, a mobile connection is not enough. But thanks to Elon Musk's Starlink, we are able to establish a stable connection with our data center wherever we are.
What inspired us to develop this solution?
As we touched on a bit earlier, our initial inspiration for our mobile laboratory solution came after we got specific requests from clients. One such instance is when one of our clients asked us if we could simulate a real-life situation, such as a hotel or an airport. To meet their needs, we went to a hotel and an airport in order to take metrics and more specifically, see how the network behaves in crowded places. We conducted several tests and analyzed the results, but we were left to wonder—what happens on the way there? Would we get the same results? So we decided to test this theory out. And this is where things got interesting. If the road to the airport ran through the city, the results were the same, however, if we used a different road to get to the airport, one that does not pass through the city center, the results were completely different.
And so we came up with the idea of ​​​​creating a mobile laboratory, a solution that would allow us to check how an application works on the move, both in densely populated areas and highways where there is a stable coverage of 4G or 5G networks. In addition, it would allow us to test connections to cell towers that are constantly changing, as well as country roads far from bustling cities where a 4G network often changes to a 3G or 2G network.
How does it work?
Because we've housed all of our testing equipment inside our mobile laboratory, we can test apps and devices while driving on the highway, country road, through the city center and outskirts of town, by the seacoast or lake, in all weathers—snow, rain, sun, wind, storm, and calm.
Does it have any limitations?
Our mobile laboratory is easily adaptable to any of our clients' needs. The only possible limitation there may be is the size of the equipment, which is only an issue if the equipment does not fit inside our laboratory. Other than that, there are no limitations.
How can software companies benefit from our mobile laboratory?
There are many reasons why software companies should test their apps and devices in different scenarios and while on the move. Companies within the communications industry in particular have a lot to gain by taking advantage of our mobile laboratory. For example, let's say you have a video conferencing application and you want to test the audio and video quality under different networks and conditions. To get accurate data about the application, it would be necessary to test it in real life scenarios that would mimic how and where your end users would use the application. Namely, you should keep in mind that users are not just using video conferencing apps in the workplace, but also while traveling in a car, walking through a busy city center, or visiting a remote area outside the city.
Our mobile laboratory is the perfect solution to step into the real world and see how well your application performs. By using our unique mobile laboratory solution to test your application on the move, you can gain valuable insights into your product and make better decisions to improve it.
Want to learn more about our unique mobile laboratory and see how it can help improve your software testing efforts? Contact us with your project details to find out how we can help.